Central to the motivation behind the development of the ZipCPU is the concept of a System within a Chip (SwiC). As I'm now preparing the ZipCPU for a version 3.0 release, it's worth revisiting this concept to see what it means and then to compare that with how the ZipCPU has been used in practice.
Fig 1. A SwiC consists of a small CPU within a chip
I have defined a SwiC to be a small soft-core CPU within a chip, but specifically where the CPU is neither the purpose of the chip nor the main application within it. Key to this definition is the requirement that the purpose of the chip is not the CPU nor the application the CPU is supporting, but rather that the CPU is more incidental to the application.
Today, I'd like to examine this concept of a SwiC in light of the many years of ZipCPU application and development, to see how well it (or any other CPU for that matter) lives up to this concept.
The initial motivation for the ZipCPU: GPS
The initial application that motivated the ZipCPU was that of a GPS correlator. A GPS correlator consists of a data feed coming from an Analog to Digital Converter (A/D), possibly entering via a DMA to memory, and correlation outputs–perhaps even going as far as soft-bit outputs. The hardware in this case is is centered on the correlator. The correlator just reads and then correlates the data in memory with the spreading code of a GPS satellite. It requires several logic FFTs and a lot of internal memory, together with whatever glueware is required to connect them all together.
Fig 2. Controlling a GPS correlator
An example of one such correlator is shown in Fig. 2 on the left.
So where does the CPU fit in?
My original plan for the CPU was to have it control which satellite's ranging code would be loaded into the correlator, together with estimating which Doppler offsets to search.
Determining which satellites to correlate against and which Doppler offsets to check requires a CPU. The CPU takes an estimate of where the system thinks the user is on the ground, together with a coarse estimate of the ephemerides for each of the satellites in the constellation. It then uses this information to determine first which satellites are in view, and then second what Doppler shifts can be expected from each of them. The better the CPU can do this task, the fewer correlations that need to be checked and so the sooner the correlators will lock on to the various satellite signals. Once lock has been achieved, the CPU will continue to look for new satellites that might be in view, and estimate what their Doppler offsets would be given the receiver's known location.
Sure, this task could be offloaded to an external CPU. But what about the task of loading the coefficients and setting things up given the satellite number and the Doppler estimate?
Handling nuisance tasks like this isn't a major portion of the design logic, but it is a necessary part. Further, since the CPU exists, it can also be used to coordinate reporting and the control of the DMAs to move data around. It could even be used to take the correlation estimates and turn them into positions, but in my world that was always handled externally by a full featured processor.
This is where I came up with the idea of a SwiC: it's a small, disadvantaged computer, occupying a minor portion of a chip which is devoted to another task entirely.
As an added benefit to starting the ZipCPU project, the hardware required for a minimal CPU is also going to be minimal and even cheap. In contrast, the hardware required for the correlators wouldn't be cheap at all–especially since the algorithm I wanted to implement was block RAM limited. Indeed, it may have required a VC707–something I couldn't afford at the time, which kept the project from getting off the ground. The CPU hardware on the other hand? That would definitely form the cheaper part of the project. Indeed, the ZipCPU even demonstrated its ability to run a small Operating System on a $60 Spartan 6 LX4 (smallest Spartan 6). This made it easier to justify the business end of getting started–but I'm getting ahead of myself.
Properties of a SwiC
A SwiC, therefore, must be a small CPU. It must be small enough that it can be added to a design as an after thought. Ideally, it shouldn't significantly impact the logic or area requirements of the design, simply because it uses so few resources.
That's the most basic requirement: it must be small.
Must it be fast? Not necessarily, although faster is usually better.
Must it be low power? Maybe, maybe not. Again, that depends on your requirements.
Like all CPUs, however, a SwiC must be a bus master and it must be able to communicate with the environment around it. It must also be responsive to interrupts that may be generated by the application handler. For example, an interrupt might tell the CPU that one round of correlation processing had completed.
These are then the minimum requirements: 1) a small 2) bus master, that is 3) responsive to interrupts. Further requirements may insist that it be 3) fast and/or 4) low power, but these are more ancillary than core requirements.
Fig 3. Mandatory interfaces
After that, however, the requirements of a CPU in general start to dominate the problem space. To see how this is so, let's start at the top.
Instruction memory

A CPU, by definition, processes instructions in a serial manner. Therefore a SwiC, like any CPU, must have access to memory containing instructions. These instructions are generally constant, so one may often assume the instruction stream is kept in a ROM.

Sadly, there are enough exceptions to this rule to keep it from being absolutely true. For example, programs must be loaded, updated, and modified over time. It may also be advantageous to move the instruction memory from an offline storage such as an SD Card into an accessible memory. A ROM therefore is a good approximation, but only an approximation.

Data memory

A CPU also needs the ability to store and process data in some kind of RAM. This means the CPU must have access to a read and writable memory somewhere, and not just the ROM containing the instructions.

Application peripherals

Finally, the CPU needs to interact with the part of the design it was intended to control. These are application specific peripherals that may exist in some designs and not in others. Optionally, these peripherals may generate interrupts that the CPU is required to process.
This might leave you imagining a small bare bones CPU, such as the one shown in Fig. 3 above.
At least, that's what you might imagine before you try implementing such a CPU.
Reality starts to look more like Fig. 4 below.
Fig 4. Mapping the SwiC to hardware
Let's start with how we might go about implementing the instruction memory. Marrying these requirements to commodity FPGA hardware lends to placing the instruction memory into flash memory. Flash memory tends to be slow, but generally abundant for these purposes. The problem with flash is that you need a way to program it before activating the CPU. My general solution to this problem has been to add a second bus master to any system, something I call a debugging bus. This bus master can then access the flash to program it. As a bonus, the debugging bus master can also reach into and control and/or debug the CPU itself. That's actually important, since the CPU needs to be kept from accessing the flash memory while it is being programmed.
Flash memory, however, won't pass for data memory. While it is easy to read from, it is hard to write to. So we'll still need some data memory. Worse, unlike flash memory where the common 16MB size is typically more than enough, a CPU's data memory usage can quickly expand beyond the capability of any nearby memory. For example, while the standard C library can greatly simplify working with a CPU, that same standard C library may require a minimum of 16kB of memory, and often something closer to 64kB of memory. Over the course of the ZipCPU's lifetime, this data memory has been provided by block RAM, SRAM, an external SDRAM, or even an external DDR3 SDRAM–all depending on the development board hosting the design. That leaves us with a minimal system having two bus masters, the debugging bus and the CPU, and a minimum of three items on the bus: the flash, data memory, and any application peripherals.
Adding the application peripherals only makes this worse: we now need a bus interconnect that can handle two bus masters and three or more peripherals. Many applications also require access to memory as well, via some form of automated memory transfer or more. All of these accesses need to be arbitrated. Hence, a CPU must now have a general purpose bus interconnect–something not necessarily obvious from our minimum requirements above.
Fig 5. Minimum SwiC system
When implementing the ZipCPU, there has been a small set of peripherals that also keep coming up over and over again. Fig. 5 on the right shows an example setup including many of these common peripherals. The first of these is a console port, by which a user can communicate with the CPU. The second is a set of single bit input or output wires, what I call a GPIO peripheral. The next two important peripherals are one or more timers and an interrupt controller.
That means that our simple CPU from Fig. 3 above has now become a much more complicated design component, even more than Fig. 4 suggested, as shown in Fig. 5.
This also means that any minimum CPU can quickly become much more than the bare minimum CPU we started our outline from.
Examples of the Vision
Now that you know the initial application that motivated the ZipCPU, let's take a moment and look at some other applications. I'll start this list off with a set of applications I've come across where a SwiC, such as the ZipCPU, might do nicely. Then, in the next section, we'll discuss the reality of how the ZipCPU has actually been used. Let's start with the exceptionally simple.
PLL controller

Some time ago, a user asked on Xilinx's forums what the easiest way would to control a PLL with an AXI4 interface. A kind helper replied that the easiest way to control a PLL on chip would be with an AXI4 input driven by a MicroBlaze computer.

Herein lies the problem of the SwiC: A simple SwiC having 20-100 instructions might've solved the problem nicely. However, if the SwiC needs access to RAM, flash, and an interconnect, then … it might have been easier just to drive the PLL with a simple state machine instead of a full blown CPU. Still, a small SwiC might've solved this problem nicely–even if it was a bit of overkill for the problem.
At this level, the SwiC competes with a state machine, and a good state machine will easily use less area. However, a good SwiC will only need to be written, simulated, and verified once in order to know it might properly drive a PLL. Still, the advantage here goes to the state machine. Once you need to drive many dissimilar peripherals, or alternatively once the interaction becomes sufficiently complex, then a single SwiC might start to make sense again.
What other uses might one find for a SwiC?
This is just a short list of the sorts of ideas that have motivated my interest in SwiCs in general. At least, this describes the vision. What about the reality?
ZipCPU: The Reality
Now that I've worked with the ZipCPU over the course of several projects, it's worth asking: how well has this vision panned out to reality? To answer that, I'd like to look through several projects that have included a ZipCPU, to see how well the vision fits or doesn't.
Doorbell controller

One of my earlier projects was a doorbell controller. This probably fits more into the category of SOC than SwiC, but the story is worth telling anyway.
Fig 6. Our beloved security officer
The background behind this project was a 2AM visitor that … well, I have no idea who it was, or why they knocked on our door at 2AM. (By the time I got to the door with my security officer, they were no longer there.) But this got me thinking: it would've been nice to turn on the outdoor lights when this person rang the doorbell, and to make sure the lights were otherwise turned off automatically at night.
My thought was to use a small FPGA to control the doorbell and outdoor light together. The outdoor light would be turned on initially at dusk, but eventually turned off–unless the doorbell rang. If anyone rang the doorbell, the outdoor light would turn on for a period of time. That meant that the FPGA would need to know time of day–requiring user interaction to set, hence there was a small keypad and a 2–line LED display.
In this project, the ZipCPU controlled the light, the keypad, the 2–line display, and the audio doorbell.
Wouldn't a small microcontroller have been more appropriate? Perhaps a Raspberry Pi or even an Arduino? Absolutely.
However, my true purpose was to see how small a system containing the ZipCPU could be, and whether or not the ZipCPU could handle multi-tasking. The answer was, yes it could handle multi-tasking while still fitting on Xilinx's smallest Spartan 6: the LX4.
(This project was internally funded …)
As you can see from the above examples, the amount of CPU interaction with the design has ranged from something that might be replaced by a small AXI4-lite state machine, to something rivaling an SOC in its own right.
Logic Usage
How about logic usage? Let's take a quick look at logic usage. Does the ZipCPU truly qualify as small enough to be used in a SwiC? This question isn't so easy to answer, since CPU design always involves a trade off between performance and area. Specifically, you can buy more, better, faster performance with more on-chip area. That means to compare logic usage, we'll need to define a feature set to measure logic usage from. So let's define and then compare a couple of configurations:
Fig 7. Supporting multiple configurations is a hassle
ASM: If you strip the ZipCPU of every single optional feature, you get to this ASM mode. I call it the "ASM" mode because it doesn't include instructions that the toolchain would require–such as multiplies, divides, or shifts of more than one bit. Worse, because this mode doesn't include the user mode, there's no way to trap on an unimplemented instruction–the ZipCPU would either just halt or restart–depending on its configuration. This means that any ZipCPU program using this mode will likely need to be written in assembly.

TRAP: This is a compromise from the ASM support above. In this mode, shift instructions are now implemented, and there's now a user mode that can be used to trap unimplemented multiply or divide instructions. Further, the LOCK instruction is now implemented, allowing atomic access from user mode.

For those buses that don't support the LOCK instruction, such as the AXI-lite bus, the LOCK instruction instead implements a interrupt block–preventing the ZipCPU from responding to an interrupt for three instructions. Sadly, this includes all of the Wishbone wrappers prior to the pipelined controller, since the LOCK instruction would otherwise cause a dead lock: the data bus would hold the Wishbone cycle line high during the lock operation, and so otherwise it would lock out the instruction bus interface from fetching the next instruction.

Minimum: This configuration includes support for all CPU instructions. In particular, it also supports the compressed instruction set not supported by the TRAP configuration above. This isn't quite a full featured configuration, however, since the ZipCPU isn't (yet) pipelined. (That's the next configuration.) Instructions, therefore, take a minimum of four cycles to complete.

The savings between this mode and the pipelined mode (next) is primarily captured by the difference between the memory controllers, shared registers, and some simplified pipeline signaling.

Pipelined: The ZipCPU was originally designed to be a pipelined CPU. This configuration turns pipelining on, while also including a powerful memory controller that's not (yet) quite as capable as a cache.

Cached: This configuration adds a 4kB instruction and a 4kB data cache to the CPU's configuration.

In general, cache sizes are configurable–but this configuration arbitrarily uses 4kB caches.

Low Power: This final configuration adds both clock gating (unusable on most FPGAs, but we'll ignore that for now), as well as zeroing unused registers for the purpose of lowering the CPU's power requirements.
Just for review, you can see these configurations compared in Fig. 8 below.
Fig 8. Comparing the basic configuration options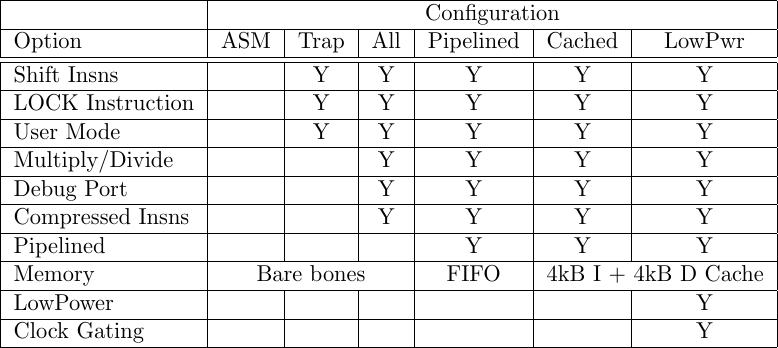 That covers the configurations of the core of the CPU.
This isn't sufficient, however, to measure the CPU's logic usage, since the CPU needs to be married to a wrapper containing the bus interface and memory controllers. Since the new ZipCPU distribution supports Wishbone and AXI-lite and AXI4, there are three basic wrappers: the ZipBones, Zip-AXIL, and ZipAXI wrappers. A fourth wrapper, one I call the ZipSystem, connects the ZipCPU to an immediate set of local peripherals: one or two interrupt controllers, three timers, a jiffies peripheral, some performance counters, and a Wishbone DMA. Each of these wrappers has a different logic requirement when attached to the ZipCPU core. So examine them one at a time.
For accounting purposes, I'll measure CPU usage in terms of both 4-LUTs on an iCE40, and Xilinx 6-LUTs. I will use Yosys for the measurements, and this script to make them automatically.
Let's start with the ZipBones area usage, as shown in Fig. 9 on the left.
Fig 9. ZipBones logic usage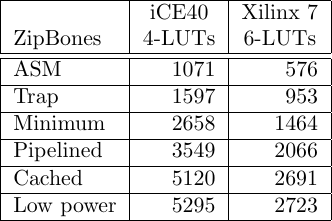 As you can see from this table, the ZipBones configuration fits nicely in the smallest of areas. Indeed, I was quite pleased with myself that the CPU can be made to fit in as few as 576 6-LUTs. No, it's not very usable in that configuration, but that's about as good as I can get for low-area bragging rights.
The next wrapper we're examining is the ZipSystem. As mentioned above, the ZipSystem is not a bare CPU, but rather includes includes several local peripherals: three timers, a Wishbone DMA, interrupt controllers, and more. As one might expect, there's a logic cost to these new features, and this cost can be seen in the ZipSystem's logic usage chart shown in Fig. 10 on the right.
Fig 10. ZipSystem logic usage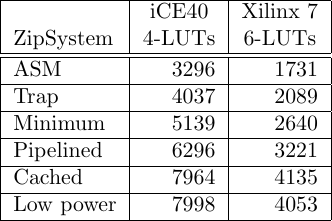 In general, the cost of these extra peripherals runs about 1150 6-LUTs or so.
The chart for the ZipCPU's AXI-Lite wrapper's logic usage is just a little different. Specifically, I have yet to build any AXI-_lite_ cache implementations. (I have an AXI cache implemention …) Therefore, the usage chart for AXI-lite shown in Fig. 11 doesn't have any cache options to it.
Fig 11. ZipAXI4-Lite logic usage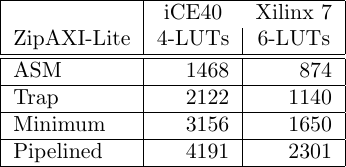 For reference, all of these AXI-Lite configurations, prior to the pipelined one, make use of the AXI-lite memory controller we discussed some time ago. As you might guess, there's no bus support for the LOCK instruction in this configuration since AXI-Lite has no support for exclusive access.
That brings us to the ZipCPU's final wrapper, showing the AXI4 (full) interface logic usage in Fig. 12 on the right.
Fig 12. ZipAXI4 logic usage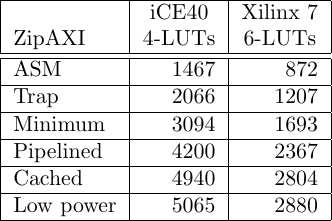 This includes the bare minimum AXI4 memory controller we discussed for the minimum modes as well. Since making this measurement, however, I've added an exclusive access option to my AXI data cache implementation. So, the numbers may not quite match the current performance.
Having this kind of information, though, is really cool. That means that I can now compare logic usage requirements between the various bus implementations, as shown in Fig. 13 on the left.
Fig 13. Bus logic usage comparison

One of my contentions has always been that AXI4 is unnecessarily complicated. Here, you can see that, in spite of the extra complications of working with the AXI4 bus, the CPU 6–LUT logic usage difference is only 100-200 LUTs between the Wishbone and AXI4 implementations. On an FPGA with 200k LUTs, this difference isn't a big deal. On an FPGA with 1,500 LUTs? A 200 LUT difference could mean the difference between fitting and not.
While informative, this bus comparison really isn't complete. To be complete, the comparison should also the cost of the interconnect and all of the peripherals–each of which would magnify the differences shown here.
When comparing logic usage options, one of the things not shown in these charts is the cost of a Finite State Machine bus controller such as one might use instead of a CPU for relatively simple tasks. For reference, therefore, a simple AXI-lite FSM–based bus controller, reading from a (not-included) memory script, can be made as simple as 88~LUTs.
Comparison to SOCs
So, how does a ZipCPU compare against a full blown SOC? Something like a Zynq, for example?
Conclusions
Having now reviewed the concept of a SwiC, and seen how such a device might be used, what conclusions might we draw?
The one thing I haven't tried, though, is connecting the ZipCPU's fetch directly to a small attached block RAM implemented as an instruction ROM. Doing so would probably both speed up the ZipCPU and lower its memory usage. Let me add this one to my to-do list as well. It won't be the first item on my list, though–that's still finalizing the ZipCPU for it's version 3.0 release.
Expect to hear more of this in the future.
Fig 14. A short ZipCPU to do list
Of course, the sad part of this to-do list, like any good to-do list, is that it just keeps on growing.
---
Were there is no vision, the people perish: but he that keepeth the law, happy is he. (Prov 29:18)